Keeping your home organized is no easy task, but with a few storage ideas and solutions you can help manage the clutter and cut down on your daily/weekly cleaning time. Here are a few ideas for organizing and containing your everyday items.
Mail and Magazine Storage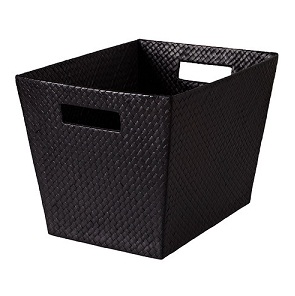 Your table and desk can quickly become a dropping zone for mail, newspapers and magazines which in a week's time, can get out of hand. If you're overwhelmed with endless piles of clutter, try sorting into these four categories and find storage containers to accommodate: (1) bills and information to file, (2) newspapers, magazines and readables, (3) recycling, (4) shreds.
When designating bins, go bigger. Cute mail-size solutions seem like a great idea at first but in hindsight fill up faster than you're willing to dispose of or file. Opt for deep containers for newspapers and magazines, shallow but larger than 8.5 x 11 inches for items to be shredded, similar or larger in size for bills and medium size containers for paper recyclables. Place your containers in areas that will make for fast and easy sorting and disposal. There are a number of great solutions that can camouflage the look of your storage to make it feel like a part of the room.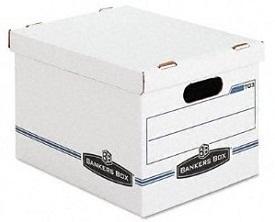 Filing
Organize and label your piles of file items so that you can easily find them. There are a number of solutions but our favorite is the old reliable 10" x 12" filing box. File information like bills, major purchases, tax information/investment records, home business information, medical documents, children's schooling and information, pay stubs, etc…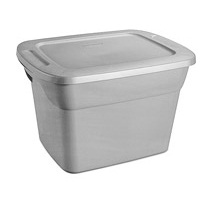 Recycling
If you don't have access to city recycling bins, storage tubs work just as well for separating and recycling. With three bins, sort into paper, plastic and glass.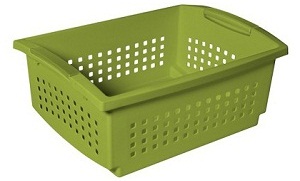 Bathroom Storage
If you're lacking drawers and sink space in your bathroom, plastic his and her bins are great for containing hair products and combs, razors and shaving cream, blow dryers and makeup. With all of your morning supplies in a single container you can easily store and transport to different rooms as you get ready.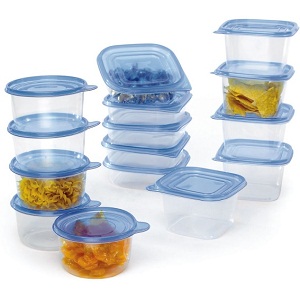 Food Storage Containers
Despite the handiness of using plastic food containers, they themselves require an organizing category when not in use. Here are some helpful tips for keeping your containers under control. Recycle any containers that are melted, stained or broken. Recycle any that do not have a matching lid and bottom or if you have an excessive number of the same size (you may want to consider using excess containers around the house to store other small items). Sort and stack by size.
Glass containers are a great way of reducing clutter. By switching to glass, it can consciously keep you from accumulating extras in your cupboards. You can easily reheat and wash items without worrying about melting or gases from heated plastic absorbing into your food too.
Under-the-Bed Storage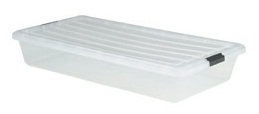 Invest in "under-bed" storage for each bedroom – you'd be surprised how much stuff you can hide in this convenient space. From Christmas decorations to seasonal clothes, blankets and extras that you don't use regularly, you'll be able to store those items in a convenient location without having to haul to and from the attic or in a closet.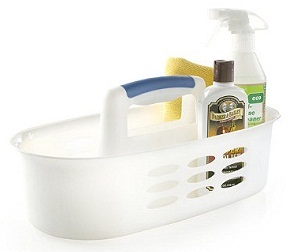 Cleaning Supplies
A similar idea to number 4's bathroom storage, find a caddie or container to hold your cleaning supplies. With a caddie, you can easily grab all of your basic cleaning supplies you need and move from room to room without running back and forth for different supplies. Here's a list to get your caddie started: Dust rag and spray, Sponges and clothes, all-purpose cleaner, magic eraser sponge, paper towels, scrubber brushes, rubber gloves, disinfecting wipes, old toothbrush, gel toilet cleaner.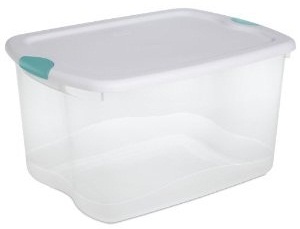 Stackable Bins
These are a lifesaver for attic and closet storage. Easily store holiday items, clothes, shoes, etc… in these bins and label. Assorted colors make it easy to color code storage items or work with the colors in your living space.
While these storage tips can go a long way in keeping your house clutter-free, you might still find yourself strapped for time to give your house the deep cleaning it needs and deserves. Contact us to receive a quote on our routine home cleaning services.