You have heard jokes (or horror stories) about outsourcing experiences with a phone representative in a foreign land giving jumbled service to an angry customer. And the punch line of these jokes is always the same: outsourcing does not always make sense. But sometimes, outsourcing DOES make sense. Business expert Dr. Lawrence Loh proposes that outsourcing may be the greatest advancement in business practices of the last half century. You can experience the benefits of outsourcing without hiring a company on the other side of the world (or becoming someone's horror story).
Why Hire a Cleaning Company
You have a lot to worry about with your business: budgets, product/service quality, employee training and resources, customer satisfaction, licensing, liabilities, profits, taxes, etc. (Reading this list might be inducing stress just thinking about everything on your own to do list.) The last thing you want to worry about during your busy day is whether the bathrooms are properly sanitized (even though clean work spaces are important). Perhaps, a janitorial company could be the perfect opportunity for your company to benefit from outsourcing for a number of reasons.
You Don't Have to Hire Another Employee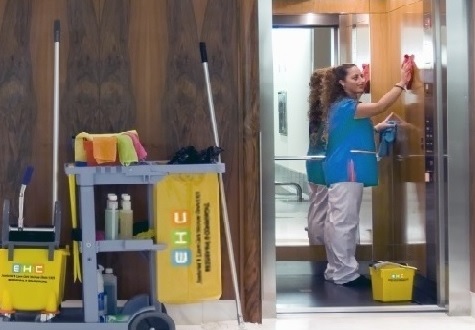 You know that managing employees is difficult. A new employee can be a large demand on your budget and to do list. New hires have to be found, (background) checked out, interviewed, oriented, and trained. These new employees can be expensive to pay (especially when you consider the fast-rising cost of benefits for full-time employees). By employing commercial janitorial services, you free yourself from the burden of hiring your own janitorial staff.
You Don't Have to Staff Valuable Resources to the Task
Your employees have a lot of important work to do. You probably cannot afford to have them distracted from that work for office cleaning. Outsourcing those custodial duties to a cleaning service will not only free up those employees to complete other tasks but they may be grateful that you value their time and talents. Outsourcing allows you to protect your most valuable resources for more vital tasks.
You Can Be Confident the Job is Getting Done Right
You run a business because you are confident that you know how to do the job and provide something unique to your customers. For a commercial janitorial service company, that special service is office cleaning. And the business is making sure that you can rest easy that your office space shines. A cleaning company hires experts in thoroughly and efficiently maintaining your professional space.
You can Focus on Running Your Business
Your business is important to you. Commercial janitorial services let you focus on what is key for that business. By hiring cleaning services, you are no longer distracted by the maintenance of your clean offices. You also do not have to worry about the important impression that your office leaves on customers (see our blog post A Clean Office is… for a description of the importance of your office in impression management). Instead, you can focus on the impression of you, your employees, and your product on those satisfied customers.
For more information about commercial cleaning services or hiring a professional janitorial service company, contact us at EHC for more information.